Metal Pergola with Retractable Roof for Commercial Use
First impressions count for a lot, and how a customer perceives a business is no exception. Whether that business is a restaurant, bar, or any other type of company with an outdoor area, there is a prime opportunity to wow visitors with a metal pergola with a retractable roof. Even residential homeowners looking to revamp their garden can impress family and friends with one.
Pergolas are the perfect way to bring a little of the indoors, outdoors. Enjoy the comfort of a sheltered seating area without missing out on all that mother nature has to offer. Metal pergolas in particular are the very essence of simplicity and effectiveness. They create a stylish area to relax outside without having to erect a complicated structure.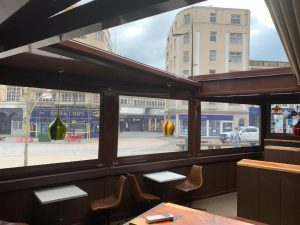 The Benefits of a Metal Pergola
Take advantage of outdoor spaces all year-round: When the weather takes a turn for the worse, the outdoor areas of a business take a backseat. With a metal pergola with a retractable roof, you can enjoy your garden and other outdoor spaces all year round.
High-quality workmanship: Our metal pergolas combine excellent workmanship with durable materials. This creates an eye-catching centrepiece for any outdoor space, and one that will stand up to anything nature throws at it. They also add a modern feel to an area while complementing more traditional features.
Practical and cost-effective: Metal pergolas are practical and cost-effective. The structure of the pergola takes up little floor space, causing minimal disruption to the layout of the area. The roof can be retracted to enjoy a summer sky, or closed to provide shade and shelter.
Great way to entice customers: The sight of an appealing place to rest out of the heat of the sun, or under shelter from less pleasant weather, will attract more customers. Why not check out one of our previously installed pergola with retractable canopy examples.
Call Loca Shading Designs Today!
If you are a business owner looking to take full advantage of the outdoor spaces at your disposal, why not get in touch today. Talk to one of our friendly experts about a pergola with a retractable roof for your property.