The High-Quality Garden Parasol That Lasts!
One of the most important features to consider for your outdoor space is what kind of shading solution to install. Shading is vital for keeping your family safe from harmful UV rays and provides shelter from the elements. There are many options for shading that allows you to use your garden no matter the weather, however, the garden parasol is one of the best for it is both durable and versatile. Here is why we recommend large parasols for your garden:
Why You Need Shade for Your Garden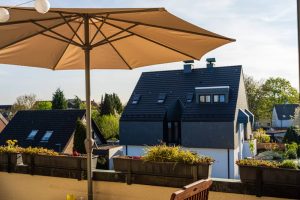 Shading reduces exposure to the sun's UV rays. These rays can penetrate through even on cloudy days or in cooler weather. Prolonged exposure to the sun can be harmful, so shading is vital for the protection of you and your family.
In addition to protection from the sun, shading can also provide cover against other weather conditions. In rain or wind, your shading will provide you with enough cover to feel comfortable and protected.
While metal and wood structures can shield your garden space, fabric shading such as parasols can keep the area cooler. This is because fabric allows air to pass through, which is more effective at cooling your area than blocking the sun's rays alone.
The extra comfort and protection offered by shading mean that you can enjoy the outdoors a lot longer. Kids will enjoy extra playtime, and you will be able to organize extended picnic times with friends and family or simply chill out and relax.
Shading also keeps any outdoor equipment and furniture protected from the weather. Rain and sun can wear down your outdoor furniture over time, so shading is a low-cost way to preserve the quality of your outdoor furniture for longer.
Uses For Garden Parasols
The garden parasol is an excellent choice for shade and shelter in the garden, and they are also highly robust and durable. In addition, parasols are extremely versatile as you can use them anywhere you need them. Here are some ways you can use outdoor parasols:
Shade from the sun so you can enjoy the outdoors without getting sunburnt.
Shelter from rain and wind so you can sit outside even on wet days.
Protection for you and your guests during outdoor parties, barbeques, and other special occasions.
Cover for children so they can enjoy playing outdoors in comfort for longer.
Loca Shading Designs
At Loca Shading Designs, we offer a variety of bespoke shading solutions for both businesses and residential premises. We provide a wide range of products, including parasols, awnings, and other shade options. To find out more about our giant garden umbrella products, we invite you to get in touch with us and see our range of sizes and colours today.