How Branded Outdoor Parasols Attract New Customers
Branding your business is far more valuable than many people may realise. It is what defines your identity, your personality, and makes your business yours. While branding has always been useful, the advent of social media in recent years has made it a necessity. With so much competition out there, you need to take every opportunity you can to stand out. Having an online presence is important, but you need to advertise in the real world too. This is where something as simple as outdoor parasols can help you gain more business.
Fully Utilise Your Outdoor Space
Business is all about building trust with your clients, and branding is all about using that trust to your advantage. A distinct and memorable logo, combined with good service, will help your business stick in the mind of a customer. This in turn makes them more inclined to remember you and ultimately return to you in the future. If you have space at the front of your business or house, you can install awnings or parasols to take advantage of that space. Bespoke design solutions can transform otherwise redundant areas into prime real estate.
Benefits of a Custom Printed Outdoor Parasols
There are many benefits that an awning or parasol can bring to your brand. As long as it is made from high-quality material, it is a great investment for any business.
Having a custom printed parasol makes your premises appear more inviting to potential customers.
You give yourself a chance of increasing footfall through your door for passing trade.
It provides shade and shelter from the elements, creating year-round outdoor spaces for bars and cafes.
Knowing they can shelter from the sun or rain will entice new customers to want to eat at your restaurant.
Retractable canopy systems can extend interiors into your great outdoors and create timeless garden rooms to enjoy.
It can extend internal space to add further seating or space for stock or displays.
Outdoor seating areas create a fun atmosphere in summer that will stick in your customers' minds.
You can combine your area with outdoor heating and lighting to create the perfect ambience.
An outdoor parasol promotes your business and improves customer awareness about your brand.
Unleash Your Brands Full Potential
Loca Shading Designs are a family-run business with 40 years of experience in the industry. We specialise in the design of stylish, custom-made awnings, umbrellas, and bespoke pergolas. We are passionate about helping you make the most of your commercial or residential property space. Understanding that no two spaces are the same, we will work closely with you to get the best results. Get in touch with our team to find out how we can help you to improve your business. Imagine the impact a Branded Commercial Jumbrella could make for your business. Contact us today, and we can help you bring your outdoors indoors.
Expert Pergola Awning Fitters Installing NOW at UK Businesses
A high-quality pergola awning can make your business stand out from the crowd, especially if you are situated on a busy street. An eye-catching awning is a great way to make people notice you, and if it's personalised, you get free advertising at the same time. Imagine a tasteful pergola outside your store with your logo and company name on it – this kind of personalisation helps build your brand and looks professional.
If you have an office, restaurant, hotel, or bar on a busy street with other competition, branding can make all the difference. People remember tasteful designs and will want to see inside your building. If you have a memorable logo, this will stick in their minds and every time they pass, they will be reminded how much they like the look of your shop front. That is a great way to make your business memorable in a person's mind before they even enter, and if you have the service to back it up, your bold awning statement can have a huge return on investment.
Benefits of a High-Quality Pergola Awning
There are many ways that a quality pergola will benefit your business.
A pergola design offers shade from the sun and a memorable place to relax, mingle or dine alfresco.
Pergola's filter sunlight, so it's cooler but not dark, like sitting in the shade.
It can be a great conversation starter as people admire quality design.
It brings the outdoors indoors, adding more space to your establishment.
You can add more seating or space out your existing tables better.
Impressed customers lead to happier staff, and both of these are great for business.
A motorised or hand retractable awning offers amazing functionality.
It can lead to press publication articles that showcase your modernised building and thus improve local trade.
What Loca Shading Designs Can Do For You
Loca Shading Designs are a family-run business, so we know the pitfalls in building a company. With over 40 years in the high-end construction industry, we are innovators in the shading market. We provide bespoke solutions to businesses that help them expand, advertise, and look more professional. Even if your outside space is small and the placement awkward, we can help design a solution for you. We install custom made awnings and bespoke pergolas for commercial and residential spaces. Our thinking outside the box approach means we often produce ideas that you may not have considered, and we will work closely with you to achieve the look and feel that you are aiming for.
Book a Free Pergola Design Consultation
If you wish to expand your business area or add some great advertising, Loca Shading is ready to help. We offer free design consultations to discuss your needs and develop a solution for you. We also have motorised awnings that offer additional space when and if you need it. You can phone our team, email us, or use the message feature on our website to get in touch today. We will arrange a free consultation and show you the exciting design possibilities available.
5 Ways You Can Add Stylish Living & Value to Your Home
While every garden is different, they all offer a place to relax and enjoy the outdoors from the comfort of your own home. Perhaps you want an impressive outdoor setting for hosting guests or a beautiful place to sit back and unwind. Whatever covered patio ideas you have, we can design it so you can enjoy the outdoors throughout the year. You can turn your outdoor space into an extension of your indoor living areas, adding style and value to your home. Therefore, here are five ways you can incorporate covered patio ideas.
Permanent Fixed Structures
Perhaps you want to combine your outdoor and indoor spaces to create a seamless transition between the two. We can integrate permanently fixed structures into your home, extending the footprint of your kitchen, dining or living areas into the open. You'll enjoy more space to entertain guests or to simply relax, as well as far more light with the addition of glass walls or ceilings.
Retractable Roofs
Retractable roofs combined with a fixed pergola structure allow you to adjust your comfort levels when outdoors. You can choose to catch some sun or create shading if it gets too hot or starts to rain. All retractable roofs offer a removable covered patio solution and are operated either electronically or manually, allowing you to have ultimate control.
Retractable Awnings
Another option for enjoying the experience of being outdoors despite the weather is with the addition of retractable side awnings. Attached to a fixed structure, awnings allow you to extend your living space outdoors while protecting you and your guests from the elements with a shade covered patio area. We offer a variety of awning options that can both enhance the appeal of your garden and give additional comfort.
Standalone Structures
Not every outdoor structure needs to be directly connected to your home. Perhaps you would rather have an independent pergola or awning to sit under in your garden. Standalone structures can provide additional space for relaxation and social occasions outside your home. In addition, they are a sturdy structure for providing shelter and shade all year round.
Garden Shading
Your options for covered patio ideas do not have to be restricted to permanent or temporary pergolas, roofs, or awnings. For example, giant parasols will give your outdoor space a stylish look when strategically placed around the garden. Have a chat with us to find out more options for shelter from the elements in your garden.
Loca Shading Designs
Here at Loca Shading Designs, we have been providing bespoke shading solutions to both residential and commercial customers for over 20 years. To find out more about our options for house awnings and other shading solutions, we invite you to contact us. Our friendly team at Loca Shading Designs would love to let you know how you can add so much more to your living space.
Retractable Roofs for Patios: Expanding Space for Customers
An aspiration for any successful business is often to provide more capacity for customers. Whether it's a golf club, leisure centre or an independent bar or bistro, space is generally at a premium. Exterior space is particularly precious, but because of where we live it can also be an issue. You may have plenty of room outside, but UK weather tends to make it redundant for much of the year.
Here at Loca Shading Designs we've been providing beautiful bespoke coverings for outside spaces for more than 20 years. Our retractable roofs for patios have allowed countless businesses to expand their capacity and increase their revenue. Read on to discover how you can grow your customer base while still providing a socially distanced service. And all within the existing footprint of your premises.

Making the most of your space
Despite our unpredictable weather, the UK's food and drink economy is increasingly moving outdoors. 25 years ago tables and chairs on the street would have been an unusual sight, but not any more.
However, we'll never be the Mediterranean, and that means our alfresco activities are limited to certain times of the year. Unless of course you've been farsighted enough to have a retractable roof pergola installed.
A covered space is a profitable space
The truth is, many businesses have valuable outside space that they find it hard to fully utilise. With a retractable roof, a unique pergola system or even just a commercial awning, these spaces could be earning money.
An unattractive yard at the back of a restaurant can be transformed into a stunning additional room. And with a retractable roof customers can still dine alfresco in the summer. A simple awning outside a cafe can provide cover for additional seating, encouraging people to stop for a coffee.
Instead of storing your outside tables and chairs for the winter, why not use them all year round. With retractable roofs, or even jumbrellas promoting your brand, you can boost your kerb appeal as well as your income.
Explore the possibilities
Here at Loca Shading Designs we work closely with our clients to ensure we provide the perfect solution. From complex projects to simple retractable roofs for patios, there is always an option to suit the situation.
In Birmingham, we turned the outdoor area in front of a popular Italian restaurant into an all year round space. Glass screens provide weather protection and privacy. The retractable roof canopy offers the flexibility of either enclosed or alfresco dining.
A bar and tapas restaurant in Manchester had limited seating but some additional space outside for more tables. A retractable pergola roof and vertical side blinds have increased the restaurant's capacity, whatever the weather.
Loca Shading Designs
If you want to make the most of your outside space, we're ready and waiting to help. Contact us today for more information or some helpful advice on the best option for your premises.
Get a Unique Covered Seating Area with Loca Shading
This summer has seen people up and down the country enjoying days and nights outdoors. When the weather's fine, people don't need to look far for a fine spot to drink and dine, whether in their back garden or in the town. But to create enticing outdoor seating that will serve you well year-round, it's worth investing in a covered seating area.
It doesn't matter whether you're a homeowner or business owner, covered seating areas come in all kinds of styles to suit back gardens, pub gardens, patios, and pavements. So, what can investment in outdoor seating do for your property?
Create a Covered Seating Area that Brings People Together
For homes and residential properties, a covered seating can keep you outdoors for longer. As the nights draw in, there's no need to dial in your party plans. Step seamlessly through your bifold doors into a dry and sheltered seating area.
Designed and built around the unique specifications of your house, a bespoke outdoor cover will blend effortlessly into your home. Modern, stylish, and practical, a covered seating area will see the desirability of your garden, and the value of your property, rise.
Opt for a permanent roof system, a retractable awning, a canopy, or a giant parasol. We offer plenty of choices to help you find a product perfect for your home. The project scale can be as large or small as you want.
But what about business owners? What can a covered seating area bring to a commercial setting?
For one, an outdoor seating area can boost your seating capacity. You may have outdoor seating already, but is it fit for use in all weathers? With a covered area, guests can sit out and enjoy your service in every season.
Our covered seating areas also allow you to bring your ambiance outdoors. Our versatile shelters have room for heating, lighting, and all sorts of electronics and decor. Create an intimate, luxury space where before there were only tables and chairs. Guests will stay out, dine out and drink out with you for longer.
Does your bar face a busy street? Then, our retractable canopies and glass screens will allow you to quickly create shelter and privacy from the curbside bustle. Have a back beer garden to work with? Let us fit a retractable roof that keeps it in use all year round.
Our custom-made awnings for UK homes and businesses transform outdoor spaces in more ways than you can imagine.
Loca Shading Designs: Outdoor Seating You Won't Want to Leave
Loca Shading works with homeowners and businesses across the UK to create stunning outdoor seating. They've worked with every kind of building new and old.
That wide experience informs all their work on covered seating areas. Their bespoke designs take into account the unique character and style of every building and business to create a shelter that fits seamlessly.
Are you ready to bring your outdoor seating to life in time for winter? If so, enquire with Loca Shading Designs today.
Expand Your Commercial Seating Areas for Year-Round Use
No matter the time of year, people will always enjoy relaxing in the great outdoors. Perhaps it could be the fresh air of alfresco dining at a street café. Maybe it is taking in the stunning view from a scenic resort. In any case, people enjoy outdoor commercial seating. So, in order to maximise the comfort of your patrons, you should always invest in shelter and patio enclosures. A good quality shelter will ensure your patrons are protected come rain or shine. Here are some of the ways that patio enclosures and other shelter options can enhance your commercial seating area.
Benefits of Shelter for Commercial Seating
Shelter for commercial seating will see that all guests are kept safe and comfortable throughout the year. Shading in the hot months will keep patrons cool and safe from sunburn. Additionally, through the cooler times it will give full protection from rain or snow.
Patio enclosures can enhance the visual appeal of your business and attract more customers. You can also make your enclosure so that it looks both attractive and functions as a robust shelter.
Not only does shelter help protect your outdoor commercial seating area, it can also benefit the interior of your business. With the right shelter you can help block sunlight from windows and doorways. This helps keep the inside cool in summer and cuts down on fuel costs.
Shelter will also protect any valuable furniture and equipment you have in your outdoor area. With good shelter anything you keep outdoors will be safe from the deteriorating effects of sun and rain.
Shelter for commercial seating can be a cost effective way to expand or revamp your business. Rather than redesigning your entire store, your shelter or patio enclosure can add visual appeal while also being functional as added protection.
Patio enclosures and other shelter options can boost the value of your property. Also, they can even create new choices for increasing revenue. You can use these areas for ceremonies and other special events to boost the income your business generates.
How Loca Shading Can Help
Here at Loca Shading Designs we work closely with clients to create outdoor commercial seating areas that is both functional and stylish. We aim to create shelter and enclosures that enhance the visual appeal of your business while also protecting your customers and furniture.
We have had many years of experience designing shelter and enclosures for different businesses. One of our projects was the Pleasance courtyard where in 2010 the umbrellas we supplied to shelter and shade visitors to the Edinburgh Festival Fringe event are still performing well today. Another example is the Ate O'Clock Restaurant & Bistro in York, which needed strong, solid shelter for business growth. We provided this with an enclosed side alley with a fully retractable roof.
If you would like to find out more about our shelter and shade options including retractable outdoor awnings, then we invite you to get in touch with our expert team today.
Design Ideas: Stunning Outdoor Covered Seating Area
Every business owner in the hospitality industry knows that first impressions are vital for attracting customers. Whether you own a restaurant, a club or hotel, it is crucial to create a façade that entices visiting customers. That is why you should consider creating the right outdoor covered seating area for your business. Outdoor seating is an attractive and practical use of space that works for many types of business. In addition, covered seating means you can use your outdoor space at any time of the year. More importantly, a well designed outdoor space can:
Greatly increase overall seating capacity, thus maximising profits.
This means the return on investment can often be relatively short.
Therefore, here are some ideas for an outdoor covered seating area for your business.
Retractable Awnings
When it comes to outdoor covered seating areas, one of the most effective is retractable awnings, also called Dutch canopies. Awnings provide protection from both rain and the sun. This allows your customers to eat and converse in comfort. In addition, they add to the kerb appeal of your store. This can be a vibrant way to promote your brand. You can install modern awnings with motorised parts that allow you to open and close them with a simple button press. Awnings are made from top quality materials and you can personalise them so that your business stands out from the crowd.
Jumbrellas
Another tried and tested idea for outdoor covered seating areas is the giant commercial umbrella, or jumbrella. Jumbrellas have long been a popular shading fixture in al fresco dining settings and outside hotels, often used to screen large patio tables. Each jumbrella can come in a variety of colours and in sizes between two and ten metres in diameter. In addition, you can personalise each jumbrella with your business name and logo to help promote your venue. Jumbrellas are an excellent way to keep your customers safe from rain or heat and ensure year round protection for your outdoor area.
Retractable Roof Pergolas
Perhaps your customers would prefer an inside space at certain times of the year and an outside area at others. A retractable roof pergola system is a great idea for outdoor covered seating areas that gives you the best of both options. With a retractable pergola you can cover your outside area on those chilly winter days while having the option to open it up when it is sunny and warm. Modern pergola systems are motorised. This ensures you can open and close it with a simple button press. Retractable roofs offer an excellent way to use your outdoor space as effectively as possible.
Loca Shading Designs
No matter the size of your business or how much outdoor space you have, at Loca Shading Designs we aim to create a design that will suit your needs perfectly. We have worked with clients from both the commercial and domestic spheres, and we have a portfolio of completed projects on our website. To discuss any ideas you have for improving your outdoor areas we invite you to get in touch with us. For commercial awning ideas and more please speak with our creative team today.
Commercial Awnings Get in touch
The Ultimate Pergola Seating Area for Your Business
A global pandemic was never going to be easy for businesses that thrive on bringing people together. But with every challenge and rule change, restaurants, hotels and bars continue to adapt.
It's hard to see how the last year could benefit the hospitality sector. But difficult circumstances have brought forward new ways of thinking about business premises.
Most of all, businesses have been thinking in new and bold ways about their outdoor areas, layout and seating space.
Of course, outdoor seating poses its own challenges. Outdoor areas can be cold, noisy and look unappealing. But there is one efficient and beautiful way to transform your outdoor space.
For businesses short on space, a pergola seating area has become a game-changing way to turn spare outdoor space into premium, practical seating space.
But what can a pergola seating area do for your business?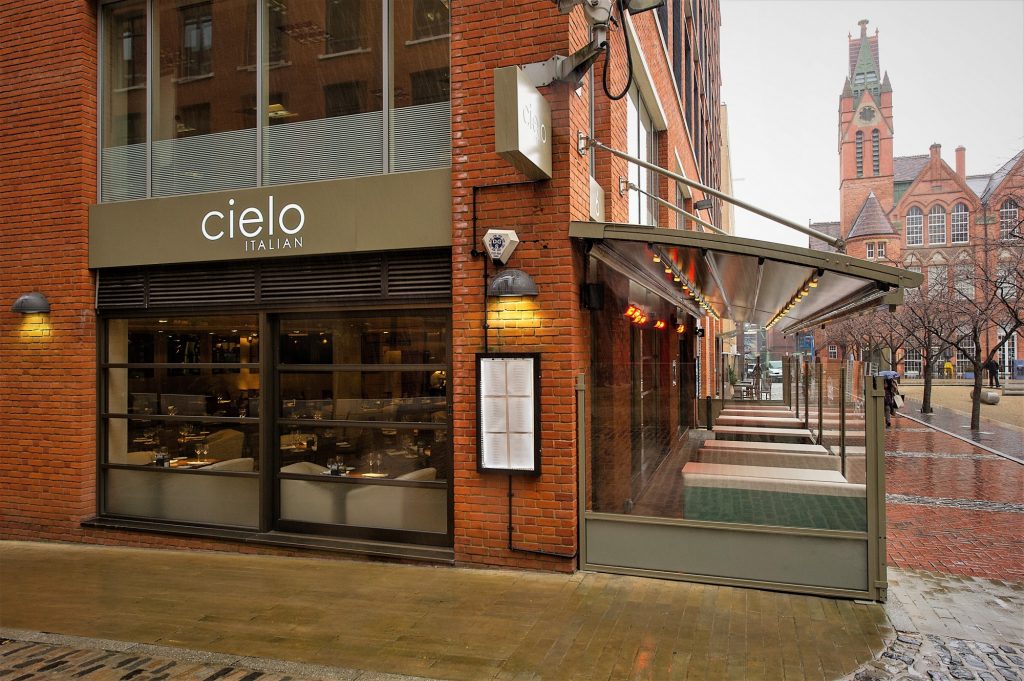 Charm your Customers with a Pergola Seating Area
A pergola consists of posts, beams and rafters that create an appealing focal point. You can attach a pergola to your frontage or let it stand freely. The rafters above prove functional as well as aesthetically pleasing, whilst the area below is left open for you to arrange seating.
One major benefit of a pergola is its appearance. Overhead rafters create an inviting al fresco environment that can be seen from the street. You can incorporate lattice work into outside walls, adding to the visual appeal.
The frame of the pergola itself offers a natural place for greenery to grow, or for the addition of lighting. A pergola can transform a lacklustre courtyard, patio or rooftop space into a vibrant, attractive atmosphere.
A pergola is also a great way to introduce some structure to an outdoor space. You'll find it easier to influence foot traffic for customers and staff. This can help keep customers safely apart when distancing matters most.
If you want to enclose your pergola seating area from the street, it's easy to fence off the sides of the space for extra privacy.
But what about the weather? With a retractable pergola cover or polycarbonate canopies it's easy to provide shade in summer or shelter from the rain in the cooler months without compromising on natural light.
Pergola seating areas also have room to accommodate outdoor heaters as the year draws on, allowing you to create a magical winter space.
Create a Stunning Outdoor Space with Loca Shading
To bring a pergola to life you need a professional team with experience turning underused outdoor areas into thriving spaces.
Loca Shading have been in the business of planning, designing and building commercial awnings, jumbrellas and pergolas for over 20 years. In that time we've worked with clients all across the UK on everything from bustling streetside eateries to tranquil riverside retreats.
You can see our work for yourself across our site. Then, if you're ready to transform your outdoor space, feel free to reach out to us by email or by phone.
Garden Seating Ideas for Your Home
Outdoor seating is a great way to entertain guests and add some flair to your patio or garden. This is often a popular choice during clear days and summer nights. That said, there are ways to make outdoor seating work perfectly throughout the year. Here at Loca Shading Designs we help realise garden seating ideas that brighten the look of any outdoor area. Therefore, here are some of our garden seating ideas that you could use for your home.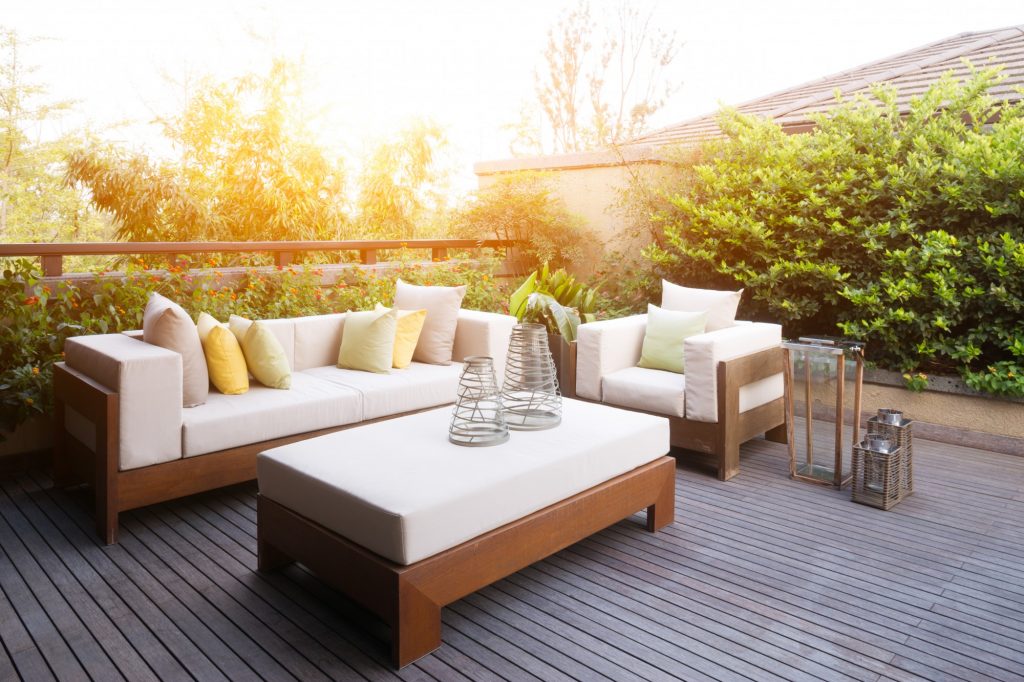 Awnings
Awnings are a great way to enjoy peace and tranquillity outdoors at any time of the year. Come rain or shine, a patio awning will offer you protection from all elements. This allows you to relax and enjoy your surroundings in any weather condition. In addition, awnings can be adjusted so that you can achieve the right balance between shade and natural light. There are many different choices for awnings, including stain and fade resistant materials. In addition, remote operation and optional weather sensors can be installed. By keeping both the sun and rain off your head, awnings are excellent garden seating ideas throughout the year.
Umbrellas and Parasols
A popular choice for al fresco dining, giant umbrellas and garden parasols are stylish garden seating ideas for your home. Not only do they add visual flair to your outdoor area but they also add protection from the weather. You can choose umbrellas and parasols in a range of fabric and colour choices to create a unique outdoor look. Sizes range from 2m to 10m for large outdoor settings. Add some unique lighting such as candles and torches and you can have that beautiful Mediterranean look all year round.
Retractable Roofs and Patiolas
Perhaps you would prefer an open space when the weather is fine with the ability to make cover when the weather turns wet and chilly. Retractable roofs and patiolas are the best garden seating ideas for when you want to alternate between indoor and outdoor settings easily. Turn your outdoor area into an indoor extension of your dining or living area in winter, then easily open it up when the weather is fine to feel the warmth of the sun outside. This is the perfect way to utilise as much space at home as possible and make it work for you in any weather condition.
Loca Shading Designs
Here at Loca Shading Designs we have been designing outdoor living area solutions for over 20 years. We work with a range of clients both domestic and commercial, including The Edinburgh Festival Fringe. To find out more about our previous projects we encourage you to look at our portfolio. To discuss how we can help you realise your ideas for the perfect garden living area, we encourage you to get in touch with us today for more details. For the best quality conservatory awnings and other outdoor seating ideas speak with Loca Shading Designs today.