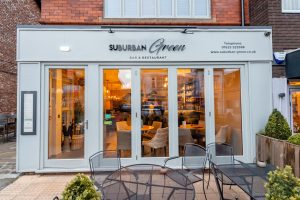 Modern Pergolas UK – Suburban Green Restaurant, Wilmslow
Suburban Green is a modern restaurant located in Wilmslow, a booming suburb of Manchester. There are a huge number of restaurants here, providing a great choice for customers but challenging competition for business owners.
Suburban Green had thrived due to its contemporary approach to food but was struggling to keep up with increasing demand. Having reached the limit of their current capacity, their only additional space was an irregular shaped outdoor thoroughfare. This linked the car park to the front entrance and was not the most obvious place for further expansion!
This area however represented a fabulous growth opportunity, as illustrated by Loca Shading Designs' creative solution:
What was previously dead space is now a new venue in its own right, known as 'The Box'.
It offers plenty of additional year-round capacity thanks to a modern flat retractable roof system that can be fully opened or closed electronically.
'The Box' has become a tremendously popular location for special events and private hire.
Commercial Shade Solutions Retractable Roofs
See How We Can Transform Your Business Space
Other Projects to Inspire