Design Ideas: Stunning Outdoor Covered Seating Area
Every business owner in the hospitality industry knows that first impressions are vital for attracting customers. Whether you own a restaurant, a club or hotel, it is crucial to create a façade that entices visiting customers. That is why you should consider creating the right outdoor covered seating area for your business. Outdoor seating is an attractive and practical use of space that works for many types of business. In addition, covered seating means you can use your outdoor space at any time of the year. More importantly, a well designed outdoor space can:
Greatly increase overall seating capacity, thus maximising profits.
This means the return on investment can often be relatively short.
Therefore, here are some ideas for an outdoor covered seating area for your business.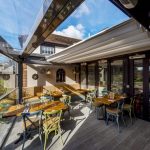 Retractable Awnings
When it comes to outdoor covered seating areas, one of the most effective is retractable awnings, also called Dutch canopies. Awnings provide protection from both rain and the sun. This allows your customers to eat and converse in comfort. In addition, they add to the kerb appeal of your store. This can be a vibrant way to promote your brand. You can install modern awnings with motorised parts that allow you to open and close them with a simple button press. Awnings are made from top quality materials and you can personalise them so that your business stands out from the crowd.
Jumbrellas
Another tried and tested idea for outdoor covered seating areas is the giant commercial umbrella, or jumbrella. Jumbrellas have long been a popular shading fixture in al fresco dining settings and outside hotels, often used to screen large patio tables. Each jumbrella can come in a variety of colours and in sizes between two and ten metres in diameter. In addition, you can personalise each jumbrella with your business name and logo to help promote your venue. Jumbrellas are an excellent way to keep your customers safe from rain or heat and ensure year round protection for your outdoor area.
Retractable Roof Pergolas
Perhaps your customers would prefer an inside space at certain times of the year and an outside area at others. A retractable roof pergola system is a great idea for outdoor covered seating areas that gives you the best of both options. With a retractable pergola you can cover your outside area on those chilly winter days while having the option to open it up when it is sunny and warm. Modern pergola systems are motorised. This ensures you can open and close it with a simple button press. Retractable roofs offer an excellent way to use your outdoor space as effectively as possible.
Loca Shading Designs
No matter the size of your business or how much outdoor space you have, at Loca Shading Designs we aim to create a design that will suit your needs perfectly. We have worked with clients from both the commercial and domestic spheres, and we have a portfolio of completed projects on our website. To discuss any ideas you have for improving your outdoor areas we invite you to get in touch with us. For commercial awning ideas and more please speak with our creative team today.